Using Qualitative Data in Program Evaluation
Using Qualitative Data in Program Evaluation: Telling the Story of a Prevention Program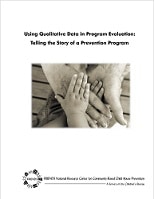 This resource is a guide that was developed as a resource for program administrators, managers, direct service practitioners, and others as they expand and enhance current and future evaluation efforts by understanding and using qualitative methods.
Qualitative evaluation cannot be dismissed as 'just collecting anecdotes.' It is far more. By intentionally and thoughtfully using qualitative evaluation methods in conjunction with quantitative methods, one can understand why specific results were achieved or not achieved, explain unexpected outcomes, and inform decisions about modifications to service provision.
The guide describes and defines qualitative evaluation. It also includes useful content on:
Getting started in qualitative evaluation
Interviews
Observations
Enumeration and sampling
Document review
How to analyze and report on qualitative data
How to use qualitative data to make program decisions
The guide also contains examples of data collecting activities and reporting and a glossary of terms.