Prevention Mindset Institute
What is the Prevention Mindset Institute?
The FRIENDS National Center for Community-Based Child-Abuse Prevention (FRIENDS) initiated the Prevention Mindset Institute (PMI) to identify strategies showing promise for shifting mindsets toward prevention. FRIENDS' goal is to share knowledge with selected state teams, learn from participants, and disseminate our findings with others in child welfare and prevention. Our vision is that systems shift from intervening with families after bad things have happened, to putting significant energy and resources into prevention and early intervention.
What is Primary Prevention?
Primary prevention looks like communities focused on family strengthening, which may include family resource/success centers, schools teaching social-emotional health, concrete supports provided when families are struggling with housing, utilities, food, or other necessities, among many other strategies. The shift to prevention offers families the opportunity to overcome challenges, is not viewing poverty as neglect, advances kinship care, makes most child removals unnecessary, and promotes the best possible outcomes for our nation's children.
The PMI is a group of national partners, parents, and state teams committed to child welfare systems transformation. The selected states have set ambitious goals to create more prevention-focused and equitable environments that support child and family well-being. They are partnering with communities, identifying critical stakeholders, addressing policy and structural changes, and tracking progress towards successful outcomes.
Please see the tabs below for an overview and the 2020 – 2021 PMI Summary Report for greater detail on PMI activities and expected outcomes identified by the first cohort of states. A second cohort was selected in March 2022 and will be participating in the PMI through early 2024.
FRIENDS has also produced two podcasts on the work, these can be found here.
Click here to download this content in a printable version. 

Values and Principles – Prevention Mindset Institute
FRIENDS has convened national experts in prevention, including Action4Child Protection, the Children's Trust Fund Alliance, Mining for Gold, the Prevention Institute, and FRIENDS' Parent Advisory Council to join with six teams from states who are leaders in work to develop ambitious and promising strategies for a new kind of child welfare system. The state teams are comprised of CBCAP state agency leads, state child welfare leadership, and other state partners.  Together this group forms the Prevention Mindset Institute (PMI).  The group will convene virtually and in-person over the next year to support and influence efforts towards building a child wellbeing system that focuses on engaging with families in order to identify and provide supports that strengthen them and their communities. 
PMI participants recognize that a clear set of values and principles illustrate what is important to a group of people and their mission. Values convey the beliefs participants share as they embark on this work. Principles are those crucial concepts and actions essential for moving the work forward guided by our values. Together, they provide critical information for bringing others into the collaboration, navigating conflicts, and remaining focused on outcomes.
Prevention Mindset Institute participants articulate these values and principles for building a new system: 
VALUES
Families are the experts of their own experience. Children are best cared for in their own families with resources and supports accessible, as needed, to remain safely intact. 
Respect that learning and knowledge comes from a variety of methods and sources, both empirical and experiential, and there is equal value in both. 
Diversity, Equity, and Inclusion of historically marginalized groups must be at the heart of the work. Diversity is defined broadly to include all aspects of identity including race, ethnicity, religion, socioeconomic status, sexual orientation, and gender identity and expression, and ability. 
Listening more than talking is a key component of effective and meaningful change. 
Trust both in the good intentions of those who have declared a commitment to the work; and acknowledgment that there is work to do to rebuild trust in many communities.  
Optimism: Change is possible. 
Humility: Seek and be open to learning that may result in our own mindset shifts. 
Steadfastness: We are committed to long-term sustainable mindset shifts and systems change, even when situations demanding immediate response may momentarily slow the broader commitment to change. 
Patience: Change does not come quickly.
Persistence: We are trying to shift entrenched beliefs and recognize that the old way of doing things may not be optimal. 
Creativity: We are willing to consider actions we may not have tried before and are open to experiencing the learning opportunities provided when we don't get the results we intended.
Collaboration: Pooling our knowledge, leveraging our differences, and co-creating the definition of success will bring about better results than any of us could achieve alone. 
PRINCIPLES
Primary Prevention: Utilizing a public health approach to identify the supports, policies, and structures in communities that help families be their strongest. All families should have access to the resources and supports that enhance the social determinants of health and historically marginalized groups should have a voice in community planning efforts.
Courageous Honesty: Listening deeply to other perspectives about our work and needed changes in our system. 
Inclusion: Including the voices of those who will be most impacted by the change, especially caregivers and youth who have been involved in the systems we seek to change. This means sharing power, resources, and information, and using language that is easily understood and accessible.
Investing Time: Investing time to come to a shared understanding of key terms and concepts. 
Data-Driven: Integrating evaluation of our efforts from the beginning so that we can clearly identify our successes and what needs modification. 
Flexibility: Knowing that the work must be dynamic, we are intentional, reflective, and willing to make changes when our analysis of the data or our partners' perspectives on the data indicates we should. 
Commitment to Racial Justice: Recognizing that in the child-serving system there are disparities in experience, how individual families are treated, and outcomes of Black, Indigenous, and other people of color. A mindset shift must have equity and racial justice at the center; this will be facilitated, in part, by equitable inclusion of representative perspectives.
Trauma-Informed: Integrating our knowledge about the impact of trauma, we actively resist retraumatization, and support actions and programs that promote healing. 
Reduce Stigma: Acknowledging that a barrier to families seeking support sooner is the stigma associated with asking for We see reducing this stigma as a component of our work.
Contribution to a growing body of work: Articulating our lessons learned not only to benefit the states participating in the Institute but to contribute to the growing body of work transforming child welfare systems into child wellbeing systems. 
References for what shared values and principles offer to systems change collaboratives and organizations:
Hsieh, Tony. (May 24, 2010).  How Zappos Infuses Culture Using Core Values. Harvard Business Review. https://hbr.org/2010/05/how-zappos-infuses-culture-using-core-values
Stanleigh, M. (June 16, 2011). How to Make Your Organization's Values and Principles More Effective. Business Improvement Architects. https://bia.ca/how-to-make-your-organizations-values-and-principles-more-effective/
 Stroh, David Peter. (2015). Systems Thinking for Social Change:  A Practical Guide to Solving Complex Problems, Avoiding Unintended Consequences, and Achieving Lasting Results, Chelsea Green Publishing, (pps. 84 and 201).
Click here to download this content in a printable version.  
Nov 2023
Sept 2023
June 2023
April 2023
Dec 2022
June 2022
June 2021
March 2021
Nov 2020
August 2020
Nov 2023
Three Key Ingredients
to Building Communities of Support and Well-Being
The PMI 3-2-1 newsletter shares three ideas, two quotes, and one question to ponder. This issue focuses on advancing our efforts to Build Communities of Well-Being and Support. We thank Alex Morales, Child Welfare League of America, Board Member; Retired CEO of Children's Bureau of Southern California; founding spark to the Magnolia Community Initiative in Los Angeles, for editing this fall 2023 issue.
FRIENDS and our PMI partners rotate editing each edition. The format, 3-2-1, is based on James Clear's newsletter that shares ideas related to developing effective habits, drawing from his book, Atomic Habits.
We are in a wonderful and much needed era of awareness after the 60+ year journey since the Battered Child Syndrome was identified by David Kempt, M.D. in the 1960's. Kempt's call shocked society into the recognition and commitment to intervene to protect children from child abuse within their own family. Today we are aware of the value of a child abuse surveillance system, and we are also aware of some significant limitations of that system. Now we are boldly moving forward to build communities of support and well-being versus communities of surveillance across our country that can be present BEFORE a child and family encounter our formal public child welfare system. Here are three important ideas that need to be front and center in our efforts.

Idea #1
Recognize, stimulate, and harness natural helping community systems as the cornerstone for building communities of support and well-being. Family, relatives, friends, neighbors, caring co-workers, faith community, parent and adult groups, teachers, recreational activities, family daycare providers, after school activities, school-parent groups, community activities, parent and neighborhood associations, and the high trust local community organizations where neighbors come for information, support and collective action are just some wonderful examples. Natural helping systems are where the powerful regenerative wellness forces of supportive relationships are unleashed. Public services are important, but they can never substitute for a lack of natural helping community activities, systems, and organizations. We must make sure that our building of public and community services and community pathways does not overlook the first essential task of stimulating and supporting the building block of natural helping community systems. Engage and fund trusted community organizations with neighborhood voices to lead the way in building and stimulating these vital natural helping systems.
Idea #2
Invest in concrete and economic supports as an essential and impactful strategy for the primary and secondary prevention of neglect. We now know that most child maltreatment reports are due to child neglect rather than abuse. Our efforts to build supportive communities must intentionally include targeted strategies to address child neglect. Research is pointing to the dynamic of poverty as a significant contributor to the problem of neglect as well as its exacerbation. Communities of support must incorporate the targeted strategy of concrete and financial support in their model design. This includes increasing availability of public benefits in their state; assessing family's financial needs, helping families navigate access to public benefits and services they need and are entitled to, and providing flexible funds for families to address economic crisis events.
Idea #3
Reduce stigma & build trust in the community. To build communities of support, we must take on the transformational challenge of developing activities and services that families know about and are attracted to versus coerced into. The strength of the family's attraction is directly proportional to the building of trust in the community with the organizations that offer support, as well as the degree that stigma is minimized. Families will be attracted to participate and work to improve their own community/neighborhood at the rate that people feel a sense of belonging in their community. Harnessing the community organizations that have high trust in the community is an effective way to increase family participation. And we must acknowledge that there is a high degree of stigma in our society related to people who are economically poor. Our society often judges economically poor people as lazy, undeserving of help, and causing their own plight (addiction, mental health, poverty, substance abuse, joblessness, homelessness, etc.) Furthermore, people who experience discrimination based on who they are adds a significant trust barrier and stigma. Strategies for building trust and reducing stigma need to be specifically addressed in the partnerships we bring together and in our planning designs for communities of support.

"I went there seeking help from those who worked there. But ultimately it was the women beside me who gave me the strength, emotional support, and resources to make it through that experience."
~ Experience at a women's shelter. Jennifer De Rosa; I'm a Single Mom: Changing the Stigma, April 10, 2022, fargomom.com
"Our policy framework in child welfare has never taken on the support of family economic needs, and there really is a new opportunity for a policy framework that is nuanced and that tackles the reasons why families are coming to our attention."
~Weiner, D. A., Anderson, C., & Thomas, K. (2021). System transformation to support child and family well-being: The central role of economic and concrete supports. Chicago, IL: Chapin Hall at the University of Chicago. Retrieved 11.20.23: https://www.chapinhall.org/research/economic-supports-child-welfare/

Imagine you are sent to an alternate universe where there are NO MANDATED CHILD NEGLECT REPORTING LAWS. You are asked how to create community solutions to prevent child neglect, and to strengthen family and community support and well-being. What would it look like?
Click here to download a printable version of this content.
Sept 2023
June 2023
April 2023
Dec 2022
June 2022
June 2021
March 2021
Nov 2020
August 2020
National Experts partnering in the work include: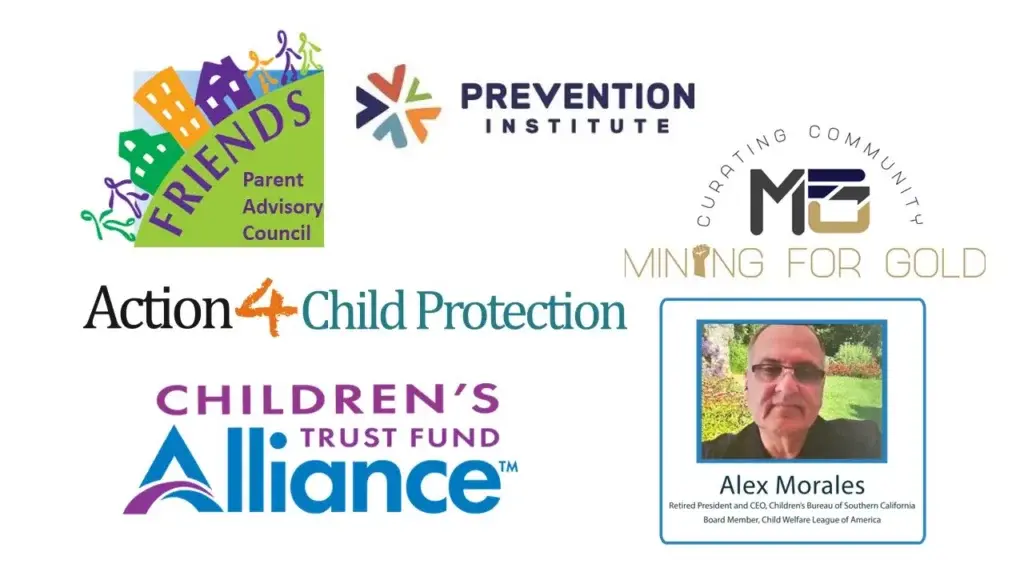 The current cohort will meet in-person in Baltimore in August of 2022 with various speakers, partners, staff and mentors to further their work together.  More information about their outcomes and progress will be shared in the fall of 2022.
2020-2021 PMI Summary Report
What does it take to shift mindsets across multiple, interconnected systems? Can mindsets be shifted within decades-old child-welfare systems—systems that wield enormous reach and power? What would motivate change? The Administration for Children and Families (ACF) has promoted the reorientation of child welfare agencies toward a prevention mindset, and the Prevention Mindset Institute (PMI) was formed to assist states in making such a change. In 2020, six states (Alabama, California, Ohio, South Carolina, Texas, and Wyoming) embarked on furthering their systems change efforts through the PMI.  To learn more about their progress, setbacks, victories, and goals, see the 2020-2021 PMI Summary Report: