2021 Annual State Summary of Exemplary Practices
The Community-Based Child Abuse Prevention (CBCAP) program provides federal funding to all 50 States, District of Columbia, and Puerto Rico. The funds are for the implementation of community-based and prevention-focused programs and activities designed to strengthen and support families to prevent child abuse and neglect.
This summary highlights child abuse prevention activities and services implemented during the 2021 funding year for CBCAP State Lead Agencies. To learn more about the Child Abuse Prevention and Treatment Act (CAPTA) that guides the program, click here to download the legislation.
Federal Fiscal Year 2021 saw increases in funding to states and communities with the American Rescue Plan Act.  The American Rescue Plan provided an additional $250 million for the CBCAP program that was awarded to states, territories, tribes, tribal organizations, and migrant organizations providing community-based supports and resources to families.1 These increases in funding brought opportunities and challenges for states and local communities to collaborate on plans and programs to further emphasize child and family well-being as well as address primary and secondary prevention of child abuse and neglect efforts.  In addition, many states and communities continued to support and partner with families to address the challenges they faced as a result of the COVID-19 pandemic.  We also saw great opportunities in expanding our efforts around diversity, equity, and inclusion.  And more people around the world reported their family as a source of meaning in their lives.2
The information shared below provides both a snapshot of services implemented throughout the country and specific state examples of work on Culturally Specific Evidence Informed Programs/Practices, Warmlines for Primary Prevention, Outreach to Special Populations, Parent Leadership/Engagement Infrastructure, and Collaboration to Strengthen Prevention Infrastructure.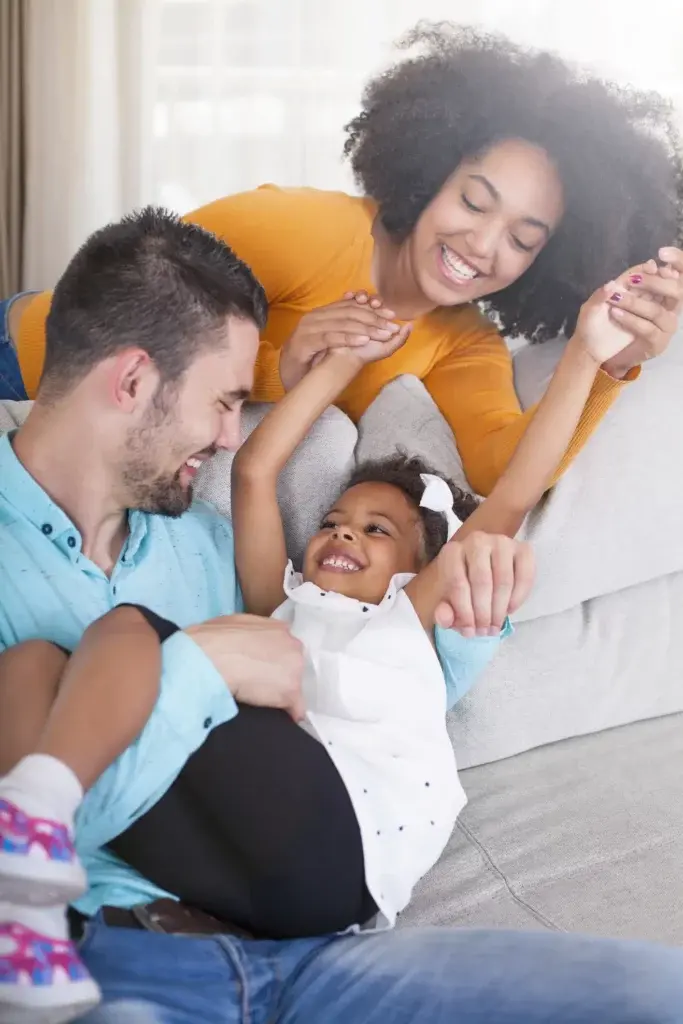 Click this button to view Data Profiles of each state and the nation compiled utilizing the Annual CBCAP State Reports.
Culturally Specific Evidence Informed Programs/Practices
Four states/territories report how they use their prevention funding to develop and implement programs and services to meet the needs of their culturally diverse families.
The Alaska Office of Children Services CBCAP lead Program Coordinator manages the CBCAP and IV-B grant funded programs to ensure the integration of trauma informed practices and the Strengthening Families framework into community-based services. A CBCAP funded grant was awarded to the Alaska Children's Trust (ACT) to facilitate and coordinate child maltreatment prevention activities statewide. The grant required the solicitation and awarding of mini grants for evidence informed and culturally responsive parent education programs or classes to many small communities throughout the state. These efforts have resulted in a much wider net of prevention services available throughout Alaska with the mini grantees located in communities which are diverse in population and culture. The mini grantees identified culturally appropriate and relevant programs to provide to the families in their local community. For example, Fatherhood Is Sacred/Motherhood Is Sacred program builds on the premise that there is no other work more important than fatherhood and motherhood and family is at the heart of Native American culture. Additionally, the Maniilaq Tribal Services will be offering Healthy Parenting Workshops which are culturally five strength-based classes using resiliency as a survival recourse while connecting problem-solving resources at a family level before conflict arises. This curriculum follows the "In the Spirit of the Inupiaq Family" which emphasizes a set of 17 values followed by the Inupiat heritage. The classes focus on teaching parents to realize and understand their own struggles in a way that presents a change in a positive and practical way, to then learn how to work around their personal struggles and to not promote struggles to their children.
With prevention as its own priority area, the District of Columbia Child and Family Services Agency's (CFSA) statewide prevention leadership activities are deeply embedded in the fabric of the agency's day-to-day work to improve the lives of children and their families.  The Family First DC (FFDC) is a neighborhood-based, community-driven approach to strengthen families and communities in ten of the District's most vulnerable neighborhoods. The Georgia Avenue Family Support Collaborative partnered with the Foster and Adoptive Parent Advocacy Center (FAPAC) – Families Growing Stronger Together (FGST) program to host the Effective Black Parenting program for children and families who are vulnerable and in need of additional supports, as a secondary prevention strategy. FGST program consists of weekly, 3 hours with special activities geared for the whole family during which parents will experience ideas and practice skills for positive interaction with their children.  In Fiscal Year 2021, FAPAC moved to virtual classes and incorporated a check in with parents at the beginning of each class. In addition, FAPAC assigned cohort buddies and mentors to check in with participants in between classes which boosted participation in virtual classes.  To continue to build the capacity for the Effective Black Parenting program, DC Children's Trust partnered with the Center for the Improvement of Child Caring (CICC) to facilitate the train the trainer model for 33 new instructors.
The New York State Office of Children and Family Services (OCFS) is the lead CBCAP agency and serves New York's public by promoting the safety, permanency, and well-being of children, families, and communities.  Within the OCFS, the Bureau of Program and Community Development (BPCD) supports a range of prevention programs related to child abuse, intimate partner, and intergenerational family violence, and strengthening families.  For example, the Harlem Dowling-Westside Center for Children and Family Services provides individual and group evidence-based interventions to children/youth ages 0-17 and their parents/caregivers in the Central Harlem community, including the Strong African American Families (SAAF) program. Families served are low-income families in need of preventive and other critical support services to address safety and other risk factors.
The mission of the South Dakota Department of Social Services is strengthening and supporting individuals and families by promoting cost effective and comprehensive services in connection with our partners that foster independent and healthy families.  The Division of Child Protection Services has worked to establish and implement a continuum of community-based child abuse prevention programs.  One example is Positive Indian Parenting an 8-week class designed for all American Indian/Alaska Native parents. The class provides a brief, practical, culturally specific training program to explore the values and attitudes expressed in traditional Native American child-rearing practices and then to apply those values to modern skills in parenting.  Special outreach efforts are directed towards parents living in reservation areas, adults with disabilities and parents of children with disabilities. The goals for Positive Indian Parenting are: (1) To help Indian parents explore the values and attitudes expressed in traditional Indian child-rearing practices; (2) To help parents develop positive and satisfying attitudes, values, and skills that are rooted in the Indian cultural heritage. Positive Indian Parenting draws on the strengths of traditional Indian child-rearing practices using storytelling, cradleboards, harmony, lessons of nature, behavior management, and the use of praise. It also addresses the historic impact of boarding schools, intergenerational trauma and grief, and forced assimilation of parenting; it empowers Indian families to reclaim their right to their heritage to be positive parents. Positive Indian Parenting is strengths-based, conveying the message that ancestors' wisdom is a birthright for American Indian/Alaskan Native (AI/AN) parents. The curriculum examines how many AI/AN families were deprived of the right to learn traditional practices, invites participants to reclaim values that may have been lost by earlier generations, and validates existing traditional knowledge and values.
Warmlines for Primary Prevention
Three states describe how they have used supplemental funding to enhance, develop, and further connect their telephone systems as connectors to resources for all families to prevent calls to the state's child welfare/protection hotlines.
The Alabama Department of Child Abuse and Neglect Prevention (ADCANP), also known as The Children's Trust Fund, is a state agency that was created by an act of the Alabama Legislature in 1983. The mission of the agency is to secure resources to fund evidence-based community programs committed to the prevention of child maltreatment, as well as advocate for children and the strengthening of families.  Using supplemental funding, Alabama funded the Parenting Assistance Line (PAL), which is Alabama's free parenting information and resource line and is managed by social workers.  Additional grant funds will assist in public awareness efforts to inform more parents about the services including a large billboard campaign in key markets across the state, as well as adding a new texting component to the line to reach and connect more parents with parenting education, tips, resources, and local events.
The Department of Children, Youth and Families (DCYF) is Rhode Island's public child welfare agency and designated as the lead agency for the Community-Based Child Abuse Prevention (CBCAP) program.  As the State's public child welfare agency, it also has combined responsibility for juvenile corrections and children's behavioral health services.  DCYF contracted with the Parent Support Network of Rhode Island (PSN) which is the Prevent Child Abuse America Rhode Island chapter.  PSN services include peer support, service navigation, warm transfers to treatment and other services, parent education, wellness visits, and supervised visitation.  PSN holds ongoing parent workshops and family-community social events. Statewide Family Support Helpline and Family Support Partner Services (peer mentors) has 5 FTE staff dedicated to providing ongoing telephone peer support and assistance to parents, family caregivers, and young adults across the state in meeting their child and family and self-recovery and wellness needs; navigating and linking to referrals to treatment, child and family services, housing, basic needs, and other community resources; participating in ongoing parent education; and other prevention and wellness family and community events and public awareness activities.  
The Texas Department of Family and Protective Services (DFPS), Division of Prevention and Early Intervention (PEI) serves as the Community-Based Child Abuse Prevention (CBCAP) lead agency. The Texas Youth Helpline (TYH), operated by DFPS alongside its other hotlines, provides prevention services over the phone to youth, parents, siblings, and other family members during a crisis. PEI is partnering with the TYH to build a separate parent helpline using the current helpline infrastructure. The envisioned parent helpline will bolster PEI's parenting support website, www.getparentingtips.com and provide a warmline for parents and caregivers to reach out for additional tips and local resources if they cannot find the answers to their question within the articles on the website. Ideally, the parent helpline will partner with statewide intake to support families that do not meet the statutory definition of abuse or neglect and connect caregivers with information and resources needed to support them without child welfare intervention.
Outreach to Special Populations
Five states highlight their efforts to successfully engage communities and families to build trust and positive connections with the child welfare and prevention systems within their states.
Idaho's Children's Trust Fund (ICTF) utilized multiple community partners to reach special populations.  ICTF considers people who live in rural areas to be vulnerable and underserved because of the difficulty rural families have accessing resources and services, often due to barriers such as distance, transportation, inadequate childcare, economic hardship, and lack of technical infrastructure.
Breaking Chains Academy of Development (BCAD), Canyon County Youth Empowerment program, has target population of youth ages 14-18 years old who are on probation, gang affiliated, in foster care, teen parents, or youth who have dropped out of high school. Youth who participated in BCAD programming benefitted from concrete supports like healthy meals, hygiene items, and GED preparation. They also worked on managing anger, anxiety, and learning from failure, all of which build resilience.
Upriver Youth Leadership Council (UYLC) provides services across Lewis and Idaho county to Kamiah, Kooskia, Harpster, Stites, and Lowell, on the Nez Perce Tribe Reservation. ICTF supported UYLC to spearhead their Garden to Table project. UYLC purchased a greenhouse kit that will be built on a donated plot of land. The vegetables grown in the greenhouse will be transferred to the community garden and vegetable plant starts will be distributed to community members to plant in their own personal gardens. The UYLC project specialist who oversees the community garden will assist youth leaders in harvesting vegetables that will be used for snacks at the Teen Center, and to feed the community fresh produce.
Clark County Schools in Dubois are only in session Monday thru Thursday, leaving children unsupervised on Fridays while their parents and caretakers' work. Additionally, limited access to basic services such as gas and affordable childcare are some of the challenges facing Dubois residents. ICTF outreach efforts supported Clark County Schools in Dubois with funds used to assist families with utility costs. Funding was also used to staff 'Friday School,' where students participated in activities that built positive healthy relationships and promoted social and emotional skills. Friday School alleviated the financial burden and stress placed on families by providing a safe and free option for childcare.
One of the projects funded through strategic outreach and the supplemental American Rescue Plan funds was Readers Theater Works! (RTW). RTW serves students from 42 languages, refugee populations, generational poverty, chronic homelessness, substance use, and unstable home life. This project was carried out at Taft Elementary School in Boise. The RTW project incorporated social emotional learning into their programming, by teaching children how to identify the emotions of the characters they play. Being able to identify the feelings of others assists to increase empathy. Parents have reported that because of RTW, their children are not only able to identify with the feelings of the characters in the books that they read, but also more capable of identifying their own feelings, thus, improving children's ability to regulate their emotions.
Indiana Department of Child Services through a contract with a non-profit agency (Indiana Children's Bureau now named Firefly Children and Family Alliance) provided prevention services to families living in Afghan Refugee Camps in 2021. The Community Partners for Childhood Safety (CPCS) liaisons participated in weekly calls led by Team Rubicon to organize the needs of the families in the refugee camps. The non-profit utilized a Community Liaison from Afghanistan to organize and present a training for Johnson County Department of Child Services (DCS) to help educate the family case managers and local community on the culture, cultural norms, and the best ways to interact with the Afghan families. The Community Partners for Child Safety program also provided educational activities and outdoor activities to the Afghan families to encourage activity and play within the family unit.
Maine Children's Trust continually sought strategies to reach and engage special populations, both at an organizational and programmatic level. While the statewide population is primarily Caucasian, Maine is home to four Native American tribes in five settled communities. In addition, Maine is a refugee resettlement state. As a result, there are well-established populations of individuals from Latin America and southeast Asia, as well as now substantial clusters of individuals from countries in the Horn of Africa region and a growing Arabic-speaking population. In the southern part of our state, Portland School District alone has over 61 different languages spoken. The Trust completed the following:
Created a partnership with Catholic Charities to ensure safe sleep options for newly arriving families with babies as mentioned previously, as well as contracted with Catholic Charities to assist with interpreter and translation needs for families attending parenting education or supports through the Prevention Councils.
Identified special populations that include families with children who have special needs. Some Prevention Councils provided parenting education for this identified group, as well as provided training to Prevention Council staff to conduct this training for families. One Prevention Council supports families with special needs at their facility and provides multiple supports.
Reaching remote, minority and/or underserved populations continued to be a key part of the community and prevention planning efforts that the Trust funded. An example of this work, due to our strong relationships with law enforcement and the justice system, are that the Prevention Councils offered the Nurturing Fathers, Inside Out Dads and other programming in the county jails in some counties as well as families divorcing, separating or coparenting, foster, adoptive and kinship caregivers.
The Nebraska Connected Youth Initiative (CYI) staff coordinated a co-design effort with Inclusive Communities, young people, and communities to design a virtual youth-adult partnership project to support transition-aged youth and young adults living without the permanent support of family. Creating Inclusive Communities youth/adult partnership project was designed to examine and breakdown the stereotypes, myths, and barriers among diverse identities – a critical first step in the blueprint for building an inclusive community-based prevention culture that reflects mutual trust, acceptance, and respect of all members of the community. This was achieved through trusted and authentic youth-adult partnership. This training and engagement plan, hosted by Inclusive Communities, and co-designed with young people and communities, helped community teams develop a deeper understanding of racial, ethnic, religious, and other cultural diversity while building relational and conflict management skills necessary for driving interpersonal and institutional changes in their own communities. Four Nebraska community collaboratives (Grand Island, Omaha, Platte/Colfax counties, and Dakota County) identified 12 professional partners (e.g., "adult partners") and at least five emerging young leaders attend the virtual sessions. This made-up each community's local action team to build inclusive communities. The "adults" and young leaders then worked together to develop strategies/plans in their own community. Twenty-one young people and 65 community partners participated in the workshops.
The Wisconsin Prevention Board held one 90-minute listening session with two tribes to better grasp the emergent needs in their respective communities around primary prevention. Through American Rescue Plan Act funding, the Prevention Board funded three Wisconsin tribes to implement Primary Prevention strategies in their communities. Examples of primary prevention programs are those that are connected to at least one of the Strengthening Families Protective Factors® or the Center for Disease Control Preventing Child Abuse and Neglect Technical Package. The Prevention Board is estimating two years of funding for each awarded Tribe.
Parent Leadership/Engagement Infrastructure
Six states provide information on their development and expansion of supporting parent involvement and leadership in their state's policies and practices. 
Collaboration to Strengthen Prevention Infrastructure
Three states share their processes and plans in collaborating with state, regional, and local organizations to strengthen their state's prevention system.
The Connecticut Office of Early Childhood (OEC), through the engagement of the Head Start Collaboration Office and Family Support Division, will continue to lead in partnership with the Department of Children and Families (DCF) a statewide effort to align policies and practices to improve the coordination and services provided to vulnerable children and their families. This partnership began in 1997 and has continued to prosper and grow with quarterly statewide meetings drawing over 120 people with 14 local partnership teams from the DCF Area Office regions meeting monthly. Partnership and collaboration are critical to the work, and over the years the effort has expanded to include partners representing mental health, housing, childcare, home visiting, and the varied early childhood and family support entities that serve local communities. This partnership continues to focus on its foundational priorities: to respectfully address child abuse and neglect together, to speed enrollment of young children receiving child welfare services into high quality early care, to coordinate community-wide supports and case management, to create a shared core body of knowledge for staff in agencies who work with young children and their families, and to ensure that planning and use of resources in communities meet the needs of vulnerable families. A few examples of the successes of this partnership includes co-location of a DCF case workers at Head Start programs, Head Start Family Service Workers invited to DCF Family Planning meetings, increase in the number of DCF referred children in quality early care and education through a common referral form, and strengthened referrals and engagement with early intervention services. The DCF/Head Start/Birth to Three Partnership serves as a model of successful cross-agency collaboration and has an infrastructure on which to build on to implement prevention activities across agencies. With the hiring of a new Director of the Head Start Collaboration Office, there is opportunity to redesign and strengthen this partnership. CBCAP funds will be used to support the redesign and expansion of the quarterly statewide partnership meetings that will now include a stronger prevention lens and the intentionality of increasing the capacity, knowledge, and practice related to the prevention of child abuse and neglect.
In the early 1990's, several agency heads and stakeholders in the state of Georgia came together to create a Statewide Child Abuse Prevention Plan under the leadership and facilitation of then Governor Zell Miller, the Children's Trust Fund and the Georgia Child Abuse Prevention Coalition. The purpose of the plan was to establish statewide models of collaboration that could be replicated at the local level to decrease duplication of efforts and increase efficiency in the delivery of prevention services – with the goal of decreasing the occurrence of child maltreatment in Georgia. Prevent Child Abuse Georgia and Division of Family and Child Services (DFCS) Prevention Section facilitated an update to this plan beginning in FY19. This plan is not owned by any individual organization; instead, it was developed and approved by all involved agencies. The process began with a meeting of state agency Commissioners and the executive directors of prevention organizations to participate in a facilitated discussion addressing why Georgia needs a comprehensive Child Abuse Prevention Plan; our proposed method and approach; and what needed to occur to ensure the plan met the approval of all involved agencies. To access the pdf of the State Plan, A Vision for Child and Family Well-Being: Georgia's Child Abuse and Neglect Prevention Plan and the 14 regional plans click here.
Essentials for Childhood, a strategic framework developed by the Centers for Disease Control (CDC), presents a roadmap to align and support stakeholders committed to the positive development of children and families, and specifically to the prevention of child abuse and neglect. Georgia Essentials is led by Prevent Child Abuse Georgia (housed at Georgia State University), the Georgia Department of Public Health Injury Prevention Program, and the Georgia Division of Family and Children Services Prevention and Community Support Section. To assist with the local application of the plan, Prevent Child Abuse Georgia and the DFCS Prevention and Community Support Section provided technical assistance to counties across the state to work collaboratively with local organizations and stakeholders to implement strategies contained in the plan in their communities and develop 14 regional Child Abuse and Neglect Prevention Plans (CANPP). Technical assistance included the development of quantifiable goals at the local level. The collaborative effort was coordinated by local community-based organizations. Each DFCS region received resources and technical assistance to execute the plan in their region. The community-based organization acting as the convener worked along with the other organizations that came to the table to implement the plan throughout the region. Eleven of the fourteen regions were convened by the local Prevent Child Abuse (PCA) Georgia councils within their regions and three of them were convened by local Georgia Family Connection Collaboratives because there was not an existing PCA council in their region.
New Mexico's Children Youth and Families Department's (CYFD) Protective Services Division (PSD) has begun the process of establishing a Differential Response (DR) system in accordance with the 2019 bill that was passed by the NM Legislative body and signed into statute by the Governor. CYFD PSD has begun to implement the first track of the three track Differential Response (DR) model which includes the following: Track 1 – Community Prevention Response; Track 2 – Collaborative Response; and Track 3 – Traditional Response. The first track of the model, initially called Family Resource Connections (FRC) which is now called Family OutReach and Community Engagement (FORCE), focuses on calls received by the CYFD PSD Statewide Central Intake (SCI) that do not meet the statutory requirements for a child abuse and/or neglect investigation. Those calls are routed to the FORCE Units within SCI and the assigned FRC Worker contacts the family, conducts a needs assessment, and then connects the family to the appropriate Community Based Prevention Intervention and Reunification (CBPIR) provider. The CBPIR programs are designed to provide families with a "one-stop shop" opportunity to have their identified needs met as the array of supports, services, and resources within CBPIR range from primary, secondary, and tertiary prevention services. This first track was piloted in January 2021 and the four CBPIR providers have been key to the pilot and rollout The Prevention Unit established a monthly FORCE Peer-to-Peer Meeting for the contractor providers to help support the successful implementation of the contracted component of the DR Track 1. The Prevention Unit has used the meetings as an opportunity to develop the FORCE contractor service manual as well as to promote effective communication and partnership between the FORCE Unit staff and the FORCE contract provider staff. In addition, the Prevention Unit participates in collective meetings with the FORCE Unit staff, CYFD Information Technology staff and Evident Change to support and promote consistency in the data collection part of the pilot.