"This program gave me the tools and knowledge to teach discipline, and the work I put in shows in my children's growth, behavior and development." – NY Family Resource Center Participant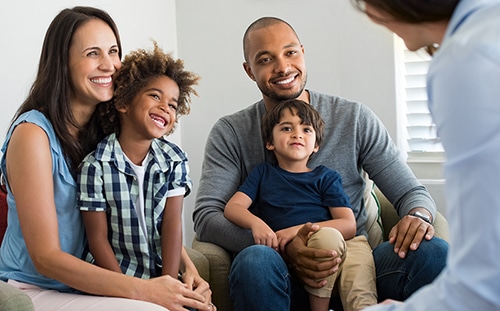 It is important for CBCAP State Lead Agencies to share outcome data demonstrating that their prevention programs and services are producing positive outcomes for children and families.
FRIENDS worked with 5 CBCAP State Lead Agencies to create two-page evaluation briefs. The briefs were designed to clearly and succinctly illustrate how prevention activities strengthened families and reduced the likelihood of child abuse and neglect. Family resource centers, home visiting programs, respite care, and parent education were the subjects of the evaluation briefs.
Click on the states below to see how data on outcomes related to increased protective factors and reduction of risk factors is displayed. These evaluation briefs showcase data on intermediate-or long-term outcomes, where behaviors or family conditions have changed, as well as short-term outcomes that show changes in attitudes, beliefs, and knowledge.