Culturally Effective Organizations
FRIENDS National Center for Community-Based Child Abuse Prevention (CBCAP) knows that family-serving organizations recognize the importance of serving ALL people well.  FRIENDS National Center seeks to effectively support CBCAP lead agencies and other organizations to meet their responsibility to promote optimal outcomes for all children and families and this includes ensuring services are culturally appropriate and prioritize equity.
INDIVIDUAL CULTURAL COMPETENCE IS IMPORTANT AND WE MUST REACH HIGHER
While many organizations have strived to assure that their staff members grow in their own cultural competence/responsiveness to successfully navigate cross-cultural interactions with other people, it is insufficient to make this the sole focus.  Assuring that organizations are providing services that are effective, competent, and equitable for all families involves more than a collection of staff members who are all individually culturally responsive.
Throughout this webpage, the term culturally responsive typically refers to individual behavior and skills, and the term cultural effectiveness refers to an organization's functioning.
The good news is that a roadmap exists to enable, cultivate, and support the delivery of high-quality services for all people.  The Institute for Economic and Racial Equity at Brandeis University offers a framework (Gaiser, et al., 2015) to guide agencies through a process to work towards being a Culturally Effective Organization.  While the framework was initially proposed for healthcare, it is adaptable to most any organization, particularly those serving individuals and families.  The Framework has been compared to organizational cultural competence standards across a wide variety of fields including the national HHS CLAS Standards (Health and Human Services, Culturally and Linguistically Appropriate Services), and has been found to have broad alignment and applicability.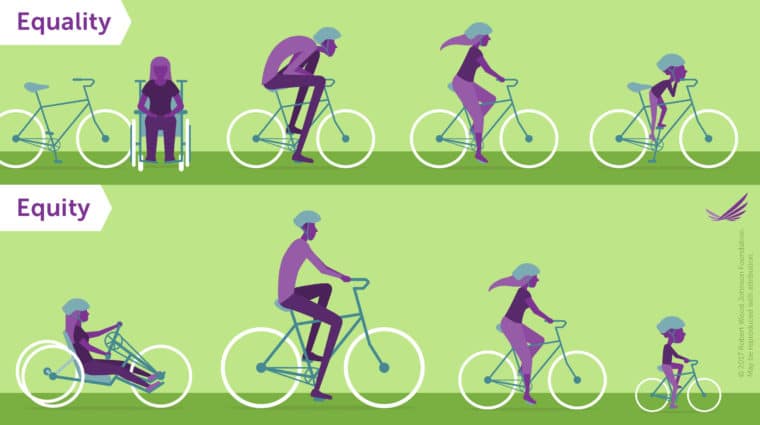 Equality = Same, Equity = Need
The U.S. population is becoming increasingly diverse. Changes in the diversity of communities across the country have prompted a call-to-action for many service providers, as well as funders of support programs, to reduce disparities in the access and utilization of services (Lopéz, Hofer, Bumgarner, & Taylor, 2020).
The effort to provide different levels of support based on an individual's or group's needs in order to achieve fairness in outcomes. Working to achieve equity acknowledges unequal starting places and the need to correct the imbalance.   (CSSP, 2019)
Equity is the equal opportunity for everyone to thrive.
CBCAP STATE LEAD AGENCY NOTE:
The Children's Bureau makes clear throughout the CBCAP Program Instruction that the program must ensure the meaningful participation of historically underserved and underrepresented groups.  This Framework is one tool to facilitate doing so.  See more on our Diverse Groups page.
THE FRAMEWORK FOR CULTURALLY EFFECTIVE ORGANIZATIONS
Here you will find the seven elements of the framework with resources to assist in exploring each element.  We have strived to provide resources especially for, or easily adapted to, application by state lead agencies, their funded programs, and other organizations working to strengthen families.
Identifying and implementing new systems and practices is a process that requires institutional change at multiple levels.  The Framework for Culturally Effective Organizations is similar to the multi-dimensional processes involved in any effective systems change effort.  There are intersections with Implementation Science and other organizational change models.  Operationalizing improvements in each of the seven elements can be accomplished using continuous quality improvement methods and processes.
The benefits of working to become a Culturally Effective Organization have been shown to include:
Improved engagement by program participants and enhanced relationships between participants and practitioners.
Improved outcomes for those participants who have historically experienced disparities.
Increased sustainability by providing cost-effective, culturally relevant services.
We hope you will find the Culturally Effective Organizations framework with its seven elements, and related supporting resources, helpful in your efforts to build organizational capacity to serve everyone well, as necessary groundwork on the path to equity.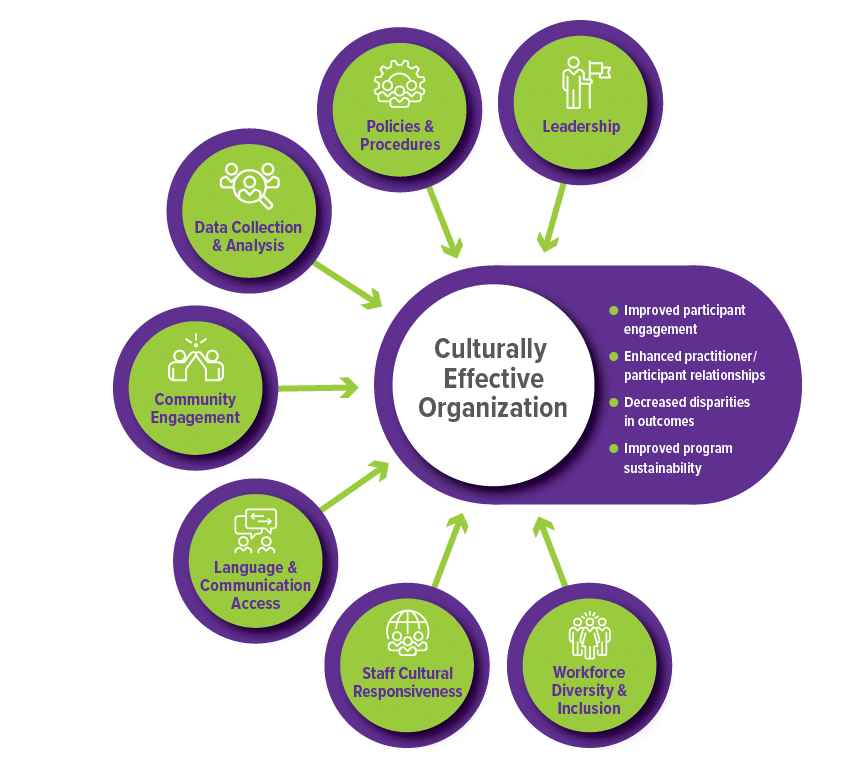 Events in 2020 have inspired reflection, renewed commitment, and action toward recognizing and dismantling racism.  You will find resources throughout the toolkit concerning these important topics.
The Center for the Study of Social Policy has identified Equity and Justice as integral to what they do and has several resources on their website.  One is featured here, but there is much more available on their website: https://cssp.org/our-work/project/equity-justice/.
CSSP (2019). Key Equity Terms and Concepts: A Glossary for Shared Understanding. Washington, DC: Center for the Study of Social Policy. Available at: https://cssp.org/ourwork/project/equity-justice#glossary-of-terms
Gaiser, M. D., Jefferson, L. N., Santos, J., Venner, S., Boguslaw, J., & Tellez, MD, T. (2015). Brandeis University, Heller School Institute on Assets and Social Policy. Retrieved May 22, 2020, from Culturally Effective Healthcare Organizations: A Framework for Success: https://heller.brandeis.edu/iasp/pdfs/jobs/culturally-effective.pdf
Lopéz, M., Hofer, K., Bumgarner, E., & Taylor, D. (2020, February 14). Developing Culturally Responsive Approaches to Serving Diverse Populations: A Resource Guide for Community Based Organizations. Retrieved from National Research Center on Hispanic Children and Families: https://www.hispanicresearchcenter.org/wp-content/uploads/Cultural-CompetenceGuide-V21.pdf
The New Hampshire Equity Collective Culturally Effective Organizations Self-Assessment Tool: http://equitynh.org/culturally-effective-organizations/
Substance Abuse and Mental Health Services Administration. Improving Cultural Competence. Treatment Improvement Protocol (TIP) Series No. 59. HHS Publication No. (SMA) 14-4849. Rockville, MD: Substance Abuse and Mental Health Services Administration, 2014.retrieved from https://www.ncbi.nlm.nih.gov/books/NBK248428/pdf/Bookshelf_NBK248428.pdf